There's an urban myth about a scene in Zulu in which a British officer in a red tunic is gruesomely struck in his throat by three successive spears: after a stunned silence in the cinema auditorium, a bloke is said to have shouted from the back: "One hundred and EIGHTY!" (Other versions of the story have an extra on location shouting it – and then getting fired – or even the star himself, Michael Caine.)
Now the film is contending with more darts. Sir Michael Caine is furious at the news that Zulu, the 1964 film about the battle of Rorke's Drift that made him an international star, has been named as something that could encourage far-right sympathies by the Research Information and Communications Unit, run as part of Prevent, the government's counter-terror operation.
As if to troll Sir Michael and everyone else, the unit includes on its list The Four Feathers, The Great Escape and The Dam Busters – the last one perhaps because of the name that Wing Commander Guy Gibson gives his dog. (To quote the explanation given by David Brent, "it was before racism was bad".) But the list also includes works by Shakespeare, Chaucer, Milton, Tennyson, Kipling and Edmund Burke as well as The Thick of It, Yes Minister and Michael Portillo's Great British Railway Journeys. (Maybe we'll let them have that last one.)
But is Prevent really trying to get Zulu and all these other texts cancelled? Or is it merely recording the (perhaps mischievous) way that far-right groups solemnly invoke these things as touchstones?
And could it be that Prevent's clumsy list will cause people to watch Zulu all over again, to get a new generation to see Stanley Baker, that lion of British cinema who played Caine's commanding officer Lt John Chard, and of course Caine himself, playing a stiff-upper-lipped posh type for the first and last time in his life? There is also Jack Hawkins as the alcoholic civilian missionary who is evacuated in a truck screaming: "You're all going to die! Don't you realise? Can't you see?"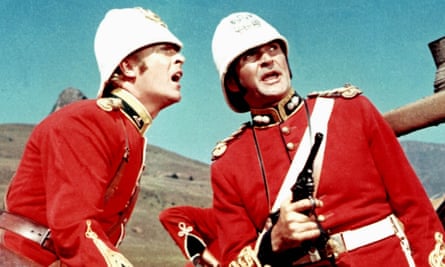 It's certainly a tricky watch, with the concept of empire now being re-examined. The Battle of Rorke's Drift happened during the Anglo-Zulu War, caused by Britain's invasion of Zululand in 1879. The combatants' manpower on both sides might be said to have been about equal but the British had the cannons, breechloading rifles and Gatling guns. The Zulus were defending an unprovoked attack on their territory by an invader with superior weaponry. But the film Zulu claimed underdog status for the British by focussing on a specific event in which just 150 British soldiers held off around 4,000 Zulu warriors. The movie sentimentally imagines a final standoff in which the British and Zulus actually sing to each other, imbued with respect for each other's martial gallantry: the Zulus a funeral lament and the British a chorus of Men of Harlech. Did director Cy Endfield consider a game of football between them on no man's land?
The movie doesn't exactly provide the overall context: this was part of a catastrophic reverse for the British, taking into account the previous Battle of Isandlwana – to which Rorke's Drift was a footnote – in which they were defeated despite their weaponry advantage. After Rorke's Drift, moreover, some Zulus were hanged using a specially constructed gallows. The movie is arguably part of the cover-up mythology that began almost immediately: the seizing on and inflation of a relatively unimportant event.
Undoubtedly the look and feel of Zulu inspired a film that does not feature on the Prevent list: Carry On Up the Khyber, that well-known satire of British colonialism. Perhaps the Research Information and Communications Unit could host a double-bill of these films at the Home Office.
Denial of responsibility!
Yours Bulletin is an automatic aggregator of the all world's media. In each content, the hyperlink to the primary source is specified. All trademarks belong to their rightful owners, all materials to their authors. If you are the owner of the content and do not want us to publish your materials, please contact us by email –
[email protected]
. The content will be deleted within 24 hours.