Australian Open quarter-finals: Tsitsipas v Lehecka, Azarenka beats Pegula – live | Australian Open 2023
Key events
Tsitsipas6-3, 3-3 Lehecka* (*denotes next server)
Tsitsipas was asked plenty of questions on his previous service game. He's asked none on this, totally commanding this one and holding to love in no time at all.
Tsitsipas* 6-3, 2-3 Lehecka (*denotes next server)
A brutal Tsitsipas smash settles a crowd-pleasing rally. Canny net-play from Lehecka restores parity then takes him to 30-15. He undoes his good work with a second double-fault before sending down a second ace and another firm serve to secure the hold.
Tsitsipas 6-3, 2-2 Lehecka* (*denotes next server)
Tsitsipas survives five break points for a vital hold. Lehecka hits a rasping forehand return to the corner from a decent Tsitsipas first serve. Tsitsipas responds with a brutal forehand on the leap. An uncharacteristic soft backhand ensues from the Greek, and then we're at two break points when a double-handed angled backhand from Lehecka just – just – lands in. Tsitsipas saves the first with an unplayable first serve down the middle and a poor return from his second serve means the second one is squandered too. But a dominant rally from the net gives Lehecka break point No 3. This one is tossed away too when the Czech bullets a forehand into the top of the net. Tsitsipas mishits a backhand horribly to hand over a fourth opportunity for Lehecka, which is retrieved courtesy of a strong second serve and a weak backhand return. Break point No 5 arrives courtesy of a confident inside-out forehand winner but again the tenacious Tsitsipas saves it. The Greek gees up his suddenly quiet and anxious supporters and gets his first advantage, which he – unlike his opponent – capitalises on. A big opportunity missed for the Czech.
Tsitsipas* 6-3, 1-2 Lehecka (*denotes next server)
Lehecka atones for a first double-fault with a natty angled winner at the net, but then hits long when under no pressure for 30-all. The Czech responds by again showcasing his skills at the net, this time with a beautiful low angled backhand volley but another error from him takes us to deuce. A fierce first serve alleviates some of the pressure and it's then Tsitsipas's turn for an unforced overhitting error to give Lehecka a key hold.
Tsitsipas 6-3, 1-1 Lehecka* (*denotes next server)
Lehecka hits the return of the match, reaching for a strong first serve and skimming it back across his opponent. A Tsitsipas error then offers a chink at 15-30 but it's narrowed with a forehand down the line from the No 3 seed. Tsitsipas dominates the next couple of rallies to hold.
Tsitsipas* 6-3, 0-1 Lehecka (*denotes next server)
A lovely forehand down the line kickstarts Lehecka's second set. He's soon 40-0 up before Tsitsipas unveils a crunching forehand to the opposite corner that his opponent can't get near. Another one follows down that line for 40-30 but Lehecka responds with a terrific forehand winner. A good hold from a high-quality game.
Tsitsipas wins first set against Lehecka 6-3
Tsitsipas 6-3 Lehecka* (*denotes next server)
Tsitsipas eases into a 30-0 lead before coughing up his first double-fault but an overhit backhand grants the No 3 seed two set points. He takes the first with little bother and he's won the set inside 36 minutes. He's been the dominant player without running away with it so far.
Tsitsipas* 5-3 Lehecka (*denotes next server)
Lehecka, serving to stay in the first set, gets a couple of first serves in the zone for 30-0 before a strong searching low return from Tsitsipas forces a miscue into the net. The Greek bosses the next rally too for 30-30, before a better serve from Lehecka makes it 40-30. He pushes Tsitsipas round the court artfully to then wrap up the game. Tsitsipas will now serve for the set.
Tsitsipas 5-2 Lehecka* (*denotes next server)
Lehecka's growing into this match but isn't really making many inroads into Tsitsipas's serve though he wrests control of a good rally with a clever lob to peg his opponent back to 30-15. Tsitsipas responds with an ace down the middle and a dominant rally following a strong angled serve. Another comfortable hold.
Tsitsipas* 4-2 Lehecka (*denotes next server)
Lehecka gets a chance to unfurl his masterful back-of-court forehand during a dominant long rally that takes him to 30-0. A powerful serve and a delicate backhand drop shot secure a hold to love.
Tsitsipas 4-1 Lehecka* (*denotes next server)
Strong serving, erratic returning, take Tsitsipas to 40-15 on his serve, and he seals the hold reaching for a glorious low angled backhand drop-volley. He's about more than the power and is set fair in this opening set.
Tsitsipas* 3-1 Lehecka (*denotes next server)
Lehecka's not been in a grand slam quarter-final before and it's shown in some of his early unforced errors, but the drop shot he flicks over for 30-15 is a thing of beauty and it sets him up for a nerve-settling easy hold.
Tsitsipas 3-0 Lehecka* (*denotes next server)
Tsitsipas romps through an emphatic hold to love in the blink of an eye.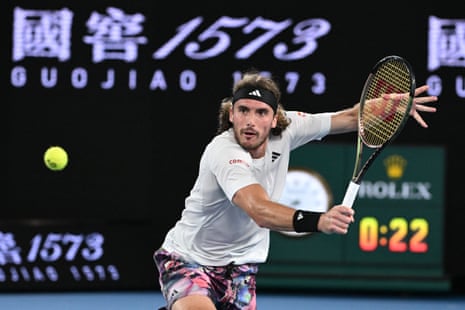 Tsitsipas* 2-0 Lehecka (*denotes next server)
An early break, after a gruelling opening service game from the Czech. Tsitsipas dominates from back of court to win the first two points on Lehecka's serve. A smash at the net helps steady the Czech, conqueror of two big seeds already in Félix Auger-Aliassime and Cam Norrie, and he pushes Tsitsipas deftly around the back of the court to move to 40-30. A weak backhand into the net undoes Lehecka's good work and Tsitsipas seizes break point when his opponent nets a backhand. It's brilliantly saved with a smart serve and drop-volley but he sends another backhand out to give Tsitsipas break point No 2, which this time is saved with an ace. A third break point follows with another unforced error, before Tsitsipas errs this time and we're back at deuce. Tsitsipas takes a fourth with an easy advancing forehand winner at the net, but yet again can't take it. Groundhog day continues with break point No 5 following a soft Lehecka shot into the net. This time Tsitsipas cashes in with a great stretching forehand lob from the back of the court that his opponent reaches for and gets but sends a backhand volley out.
Tsitsipas 1-0 Lehecka* (*denotes next server)
Tsitsipas gets us under way, and it's already apparent he has raucous backing inside Rod Laver Arena. Confident serving takes him to 30-0 before he miscues a forehand into the net. It's soon 40-15 before Lehecka responds with a gorgeous lob to settle a long rally. That'll settle the Czech, and he's soon at deuce and applying pressure on the Greek No 3 seed. Tsitsipas swats that pressure aside with a forehand winner and wraps up the hold when Lehecka steers a forehand wide.
Azarenka plays Rybakina in the semis – an enticing match-up of two suddenly in-form players. Meanwhile, Tsitsipas and Lehecka are knocking up and soon to start.
Right, next up it's Tsitsipas v Lehecka. I'm just going to avail myself of some coffee and then will be right back atcha.
Azarenka speaks: "It hurts to beat [Pegula] because I want her to do well and she'd; been playing amazing. We had so many rallies, I wanted to try and stay there and take my opportunities because otherwise she would. I executed my game plan really well and I'm so proud to be in a semi-final of another grand slam.
The 2012 and 2013 champion is then asked how she feels to be back winning on Rod Laver arena in front of the man himself. "You want to show your best tennis in front of the best," she replies. "I hope you guys enjoyed watching me because I really tried my best.
"My tennis wasn't bad last year but I wasn't really there mentally and I played with a lot of fear. It's diiffuclt to be brave when you feel anxious and hesitant so I worked a lot on my mindset, challenging myself because sometimes you can become conservative so I thought I'd be open minded and try new things.
Asked about the challenge of playing when you're a parent she replies that her son Leo "doesn't really care so much [about tennis] – he worries more about his football and when we're gonna go play again but he's watching matches and he wants me to be home. It's my dog's birthday too". Happy birthday, pet dog.
Azarenka beats Pegula 6-4, 6-1
Pegula 4-6, 1-6 Azarenka* (* denotes next server).
Azarenka wraps up an upset in confident, empatic style. Initially it's better from Pegula as a searching angled forehand gives her first blood in Azarenka's service game, but a forceful serve restores parity. Another one makes it 30-15. And when Pegula overhits another return, it's two match points to the No 24 seed. It's taken at the first opportunity after Azarenka outpoints Pegula from the back of the court. The favourite is out and Azarenka is deservedly through after a powerful and focused performance. She's still a contender.
Pegula 4-6, 1-5 Azarenka* (* denotes next server).
Another break – the fourth in a row – as Pegula looks to be capitulating. She just can't dominate off her serve and starts the next game with two forehands into the net. An overcooked Azarenka forehand give the No 3 seed some respite. Yet another netted forehand coughs up two more break points, and it's given up straight away with another unforced error as Pegula hits too long. Azarenka will now serve for the match.
Pegula* 4-6, 1-4 Azarenka (* denotes next server).
Pegula is returning better than she's serving and a nice if risky little dink over the net brings her the first point before losing the next with a netted forehand. An overhit return takes it to 30-15 as Pegula offers up a mournful sigh. The next rally is an epic one, mostly dominated by Pegula but won by Azarenka who unlike her opponent seizes her opportunity with a passing shot down the line. It becomes an easy hold, the first for a while. Pegula is staring down the barrel here.
Pegula 4-6, 1-3 Azarenka* (* denotes next server).
The roof's still over Rod Laver Arena after the earlier rain, depriving those inside of what is now a lovely Melbourne sunset. Pegula is made to work in her service game again, not helped by a soft forehand into the net for 30-30. Azarenka helps her out though with a misjudged sliced backhand too long, but atones with a forensic and fierce driving forehand to take us to deuce. Azarenka then shanks one off the edge of her racket but dominates the next rally to secure deuce No 2, then carves out another break point by pushing her opponent further back in the court. She takes it too, in a similarly dominant return, to secure a third successive break of Pegula's serve. Azarenka's rolling back the years here. Can she consolidate the break this time?
Pegula* 4-6, 1-2 Azarenka (* denotes next server).
Pegula breaks back in her most impressive game of the match so far, her range of shots more to the fore. A morale-boosting backhand drop shot from Pegula foxes Azarenka in the context of a long exchange from the back of the court, and a searing forehand winner gives Pegula a chance at 0-30. A good wide serve from Azarenka cuts the deficit. But Pegula snatches two more break points when the Belarussian sends a backhand wide. Dominant serve-volleying saves the first of them but can't save the next, an errant backhand gifting Pegula the break-back.
Pegula 4-6, 0-2 Azarenka* (* denotes next server).
Azarenka sends an awry forehand wide, and a booming serve down the middle takes Pegula to 30-0. But the American continue to err with back-of-court attempted winners and sends two long in a row, and Azarenka forces another break point with a strong return to the corner. It's taken too when Pegula hits long – again. Is her quarter-final curse continuing?
Pegula* 4-6, 0-1 Azarenka (* denotes next server).
The opening stages of this set feel pivotal after the first set ended with the players looking more closely matched, and Azarenka, who has not looked like the underdog at any point, races through a service hold to love.
Azarenka wins first set against Pegula 6-4
Pegula 4-6 Azarenka* (* denotes next server).
Pegula starts her service game strongly but a needless hoick into the net from close range pegs her back to 15-15, and Azarenka's smart backhand volley at the net gives her another chink at 15-30. She dominates the next point too with more smart volleying to gain two more set points. And this time Azarenka cashes in. Set point No 5 is converted when Pegula sends a forehand wide. Just as momentum looked as if it was with the No 3 seed, Azarenka has shown her tenacity to snatch the set.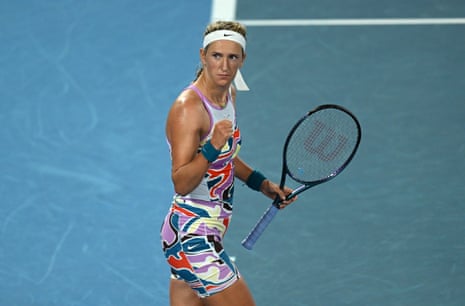 Pegula* 4-5 Azarenka (* denotes next server).
Azarenka loses her hitherto strong grip on the match as Pegula breaks back after saving two more set points. Azarenka rasps a double-handed backhand into the corner to settle an excellent rally for 30-15, and another overhit forehand grants Azarenka two set points, which are also squandered. The first is saved after a gruelling slogfest ends in a fierce forehand from the American, and the second by a fine driving volley from the encroaching Pegula. And suddenly, she has a break point after Azarenka double-faults. And this one is taken after another lengthy exchange ends with the Belarussian skewing a forehand wide. Game on.
Pegula 3-5 Azarenka* (* denotes next server).
Azarenka squanders a chance to wrap up the set as Pegula digs in to hold. A double-fault puts Pegula in more bother at 0-30 before she gets lucky with a net cord deflection to get on the board. But another careless long backhand from the American gifts Azarenka two set points. The first is saved courtesy of a strong first serve, as is the second. And Azarenka then overcooks her return before another overlong backhand from Pegula gets us back to deuce. A brilliant ace ensues and Pegula goes on to hold.
Pegula* 2-5 Azarenka (* denotes next server).
Apologies for the break in coverage – work/life balance issues. Anyway, three more service holds have ensued leaving Pegula serving to stay in the set, Pegula missing a chance to break in the last game.
Pegula 1-3 Azarenka* (* denotes next server).
An audacious lob sets Azarenka on her way again and Pegula then nets to give her opponent another platform at 0-30. She's looking a tad out of sorts but manages to point Azarenka around the court to win the ensuing point but a searing forehand winner from the back of the court delivers two more break points. Pegula saves them both with a couple of fine angled serves before coughing up another with a miscued return into the net. Pegula saves this one too with a forehand at the net. She gets an advantage before being pegged back to deuce. Azarenka unleashes a stunning forehand to gain another break point but Pegula again digs in. And eventually the American holds firm to get on the board.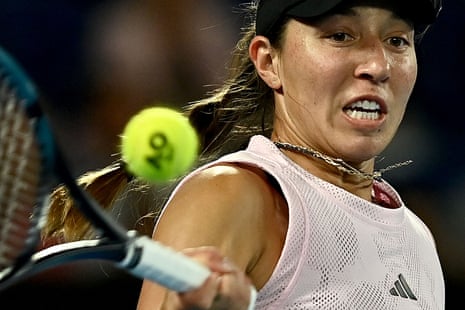 Pegula* 0-3 Azarenka (* denotes next server).
Azarenka's looking confident and forceful – these are so often the occasions when experience and muscle-memory come to the fore. Pegula's a deft shotmaker though and a penetrating low forehand gets her to 15-all. Azarenka then gets lucky with a net cord before Pegula pulls it back to 30-all, dominating at the net. Some strong serving then secures the hold.
Pegula 0-2 Azarenka* (* denotes next server).
First blood to Azarenka as the Belarussian breaks. Pegula shows her class with a superb stretching crosscourt backhand that atones for a previous error to make it 15-15. But an overhit forehand gives Azarenka an opening at 15-30. It's two break points when Pegula skews a forehand wide. She takes it straight away after dominating an absorbing rally.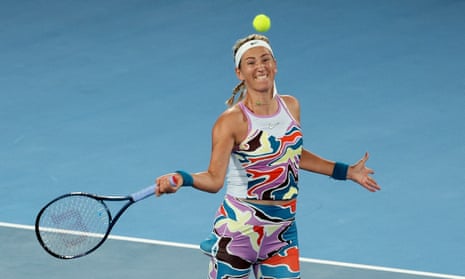 Pegula* 0-1 Azarenka (* denotes next server).
A wrongfooting forehand winner and an instinctive smash at the net after a net cord get Azarenka under way before Pegula outsmarts Azarenka at the net after a fine rally. A booming Pegula forehand gets the American back to 30-30. Azarenka is made to work hard to win the next point but manages to do so when Pegula hits long. Azarenka secures the hold when Pegula nets. A competitive fiercely fought first game though.
The players are out on court knocking up, Pegula chasing her first slam semi-final appearance, Azarenka having reached eight.
Morning/evening everyone. The tournament's properly thinning out now, granting Melbourne Park's neighbours a chance for some rare kip. The evening session in the Rod Laver Arena begins with Jessica Pegula, the highest seed remaining at No 3, taking on the seasoned battler Victoria Azarenka, seeded 24 but impressing once more in this tournament. Tumaini had an interesting chat with Pegula before this year's event began, in which she chatted about her up-and-down path to the top and being one of the more materially privileged players on the tour.
After that comes the men's quarter-final between Stefanos Tsitsipas and the unseeded but promising Jiri Lehecka. Tsitsias is perhaps the strongest obstacle to another Novak Djokovic title but he was put through the wringer in an absorbing five-setter against Jannik Sinner on Sunday so it will be interesting to see how he's bounced back from that.
Earlier, Karen Khachanov beat Sebastian Korda in the men's quarter-finals, with the latter retiring injured in the third set at two sets down, and the Wimbledon champion Elena Rybakina cruised past Jelena Ostapenko 6-2, 6-4. Here's a brief PA Media take:
Wimbledon champion Elena Rybakina eased into the semi-finals of the Australian Open with a straight-sets victory over Jelena Ostapenko.

As expected between two of the biggest hitters on the women's tour, this was first-strike tennis but Rybakina was the steadier in a 6-2 6-4 victory on Rod Laver Arena.

Both had caused upsets in the previous round, Rybakina defeating world number one Iga Swiatek and Ostapenko powering past Coco Gauff.

The Latvian, the French Open champion in 2017, was through to her first grand slam quarter-final for nearly five years, but produced too many errors to put any real pressure on Rybakina.
Denial of responsibility!
Yours Bulletin is an automatic aggregator of the all world's media. In each content, the hyperlink to the primary source is specified. All trademarks belong to their rightful owners, all materials to their authors. If you are the owner of the content and do not want us to publish your materials, please contact us by email –
[email protected]
. The content will be deleted within 24 hours.