Key events
Message for Ben Roberts:
John Moloney gets in touch from Denmark: "I enjoyed the profile of Azpilicueta by Sid Lowe this morning; Azpilicueta always seems like a really decent bloke as well as being really quite good at football. I had the good luck to be at Parken with my family to see the cracking match between Spain and Croatia in the Euros – great game and a terrific atmosphere.
"We were sitting by the Croatian supporters who were brilliant, but got a bit overexcited as things turned pear-shaped. Parken is a really tight ground and an element of the Croatia supporters started hurling beer and plastic beer glasses at the Spanish players. Azpilicueta came to take throw right in front of ua and duly got the treatment. His reaction was great – stayed cool (if annoyed) and turned to the crowd and asked them reasonably to show a little respect. Impressive restraint and although it did not stop the problem entirely it certainly took a lot of heat out of the situation. Azpilicueta is a grown up in a world where there are not so many.
Talking of which, Gavi is going to end up on the naughty step if someone does not point out that he isgetting a bit overexcited."
Half-time: Morocco 0-0 Spain
As you might expect, Spain have dominated possession but less expectedly, the Moroccans have made the better chances. Sofiane Boufal's missed header was something of a sitter.
45 min: Just a minute added on, and it's been breathless stuff, if very tight. The half ends with a hurried Morocco clearance.
44 min: Asensio wins a corner, taken quickly and then Pedri zings in a ball that nobody attacks. That's where they needed Julio Salinas to nod the ball in.
43 min: A frantic Spain have to get it launched as Laporte has to head a Ziyech headed cross back out. Morocco look the more dangerous on the attack, actually capable of creating chances.
41 min: Jeremy Boyce gets in touch: "Morocco clearly need to channel their inner Jose 2010 Champions League final, lest we forget, beating Bayern 2 – 0 despite "enjoying" only 30% possession. The goals were scored on 35 and 70 minutes, we're nearly there… "
We're past the witching hour, but Morocco go close. Rodri has to head the ball back out and it comes to Boufal, and that's a free header…missed. That should have been gobbled right up.
40 min: All Spain, but still no penetration. Hakimi is a high-class defender, as well as a high-class overlapper and he makes sure Dani Olmo gets nowhere fast.
38 min: Correction from Ben Blatch-Hanlon: "I think you'll find that Gavi is actually the youngest player to feature in a World Cup knockout game since Australia's (and soon to be Newcastle's) Garang Kuol against Argentina on Saturday just gone, who himself was the youngest since Pele. Gavi was born on 5 August 2004 while Kuol is a sprightly month and ten days younger."
How does that compare to Norman Whiteside on 1 July 1982?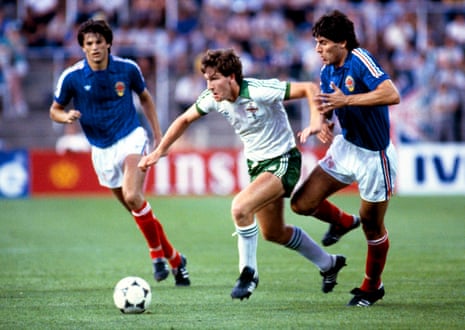 37 min: Morocco could not be said to be one of those teams who engage in the high press. It's more a low press. Spain are pressing high but have created very little. Olmo and Asensio are skating round the fringes but finding very few spaces.
35 min: Ferran Torres seeing plenty of the ball out wide, and the whistles continue but he is trying to having to beat three men at a time. Spain are putting very heavy pressure on, but Morocco are sat back in numbers.
33 min: First real shot in anger from Morocco, as Zaroury finds space to charge on and shoot. Simon, as per, doesn't look too comfortable but gets the job done.
31 min: Pedri goes on a dart down the left, but Morocco have withdrawn into a defensive shell.
Paul Bellsham, one of our esteemed photo editors, cuts in: "Not wishing to blow my own… a cornet is more compact than a trumpet, with more bends leading to a mellower parp."
29 min: David Sweet has an anthem tale, a good one: "A number of years ago, Yugoslavia (yes, that long ago) were playing Luxembourg in the Grand Duchy. To the consternation of the hosts, the team marched off when the Yugoslav national anthem was played. It turned out that it was the pre-war anthem associated with a fascist government! The match could only start after a radio appeal brought an emigré taxi driver, who had the 'right' anthem on a tape in his cab, to the ground. Luckily, Luxembourg is not very big!"
By the way, Spain continue to dominate possession and the Moroccan fans in the stand are beginning to look very nervous.
28 min: Ben Roberts gets in touch: "By happenstance I am working in Morocco today and tomorrow. I boarded a train from Tangiers to Casablanca on the stroke of kick-off, leaving behind an increasingly excited local population to the quiet of the high speed train (300kmh!) that is currently zipping through the countryside. No live television on this train so it's MBM all the way. I'm due to arrive in Casablanca just after full time!"
Of all the MBMs in all the world…etc etc etc.
26 min: Asensio rattles the side-netting. Chances opening up for Spain? Morocco tiring already?
25 min: Spain should have scored. Well, if they were not offside. Bono comes out, doesn't find what he is looking for, and Gavi hits the bar. With or without the offside, that should have been buried.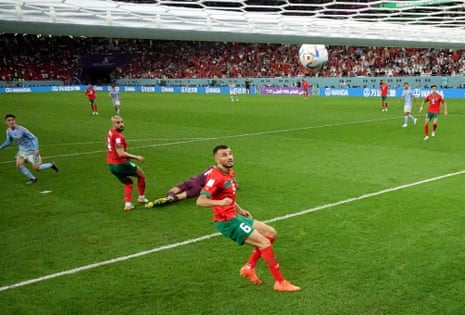 23 min: Spain attempt to right themselves, but Morocco will not let them settle. Boufal goes down, having slipped after barging into Llorente. It looks like one of those incidents when a player goes down to protect himself from further action.
21 min: Morocco fancy this now, and former Southampton enigma Sofiane Boufal has just performed an amusement arcade shuffle that Denilson would be proud of.
19 min: Gavi throws himself headlong into a high foot in the style of 1980s Bryan Robson and the Phil Jones of the 2010s. Such bravery came at the cost of injuries to both, so here's hoping it doesn't for him. Today sees him become the youngest player to feature in a knockout game since Pele, though to continue the Manchester United theme (I know this happens a lot around here), Norman Whiteside would have been younger in 1982 but there was a second group stage in Spain.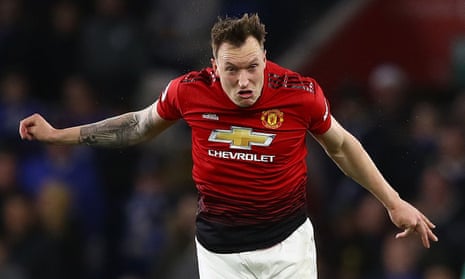 17 min: Some tackles going in now. Morocco's plan is working, Spain are not being allowed to settle.
16 min: Joe Pearson gets in touch: "Until just now, I thought trumpet and cornet were the same thing. Apparently not." Definitely not. If similar.
15 min: Spain seem to be hoping Morocco can be drawn out of their shell. But that also means they will get some attacking. Boufal speeds on and a cross from Mazraoui tests Simon in the air. Luis Enrique is cackling away on the sidelines. He really is a most intense man.
13 min: Ferran Torres goes out left this time, indicating there is flexibility in Spain's forwards. Then, Bono, the Moroccan keeper, almost gets into a mess from a back-pass. He makes his escape.
11 min: Morocco free-kick, and in a dangerous position. Hakimi fancies it, from the slight inside-left positoon but he drifts over. It goes wide.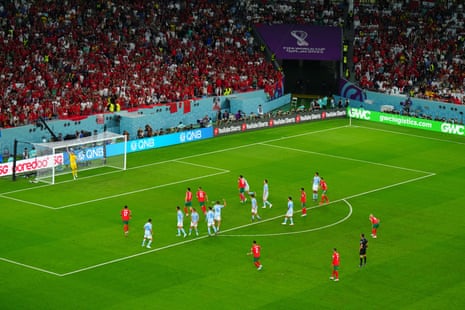 10 min: Charles Antaki: "Good point about the anthems being played on some DVD up in the stadium announcer's box. A real shame. In the good old days, of course, there would be the Band of the Coldstream Guards (or local equivalent) churning out a nearly unrecognisable version of some unfortunate visiting team's anthem, to the amusement of the away fans. Innocent days."
Yes, bring it back, Gianni. A close relative plays the trumpet and cornet and we'd love to see him at the World Cup.
9 min: Morocco sat back in big numbers, a crowd scene. Torres gets the ball out wide, makes a dart into the box and then runs into traffic. He improvises a backheel and the ball rolls back towards Gavi who commits a foul.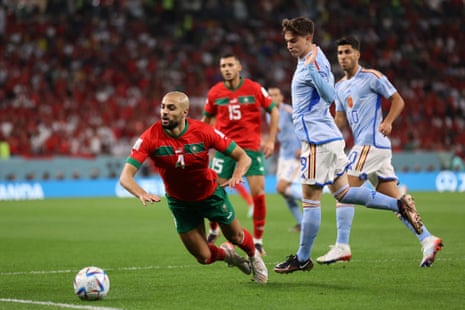 7 min: Llorente is overlapping as a full-back, which is probably why he's in the team ahead of Carvajal. Morocco attack now, and Boufal gets crowded out. More Morocco than before, and that's a positive sign for them.
5 min: It is presumably the Morocco plan to keep it tight, but surely to have the ball at least some of the time. That's not happened at all just yet. All Spain, though not too penetrative as yet. Big roars as Ziyech finds space for the counter but then runs the ball out.
3 min: Any dancing? Roy will be watching. The ball remains in the Morocco half, the whistles sustain.
2 min: Spain's every touch being whistled. And as they will expect to dominate possession that's an awful lot of whistling. Big cheers when Amrabat wins the ball only for him to play in Hakimi, who then mis-controls.
1 min: Off we go at the Education City Stadium after both teams complete their huddle, and there's a whistling, howling noise to great the kick-off. This game, unlike so many others in the knockouts, looks like a sellout. And fans may be late in arriving, too.
The Moroccan national anthem is both played lustily by the band playing it (presumably on record) and the fans and players in the stadium. Spain's anthem gets a smattering of boos, rather regrettably. They don't sustain long.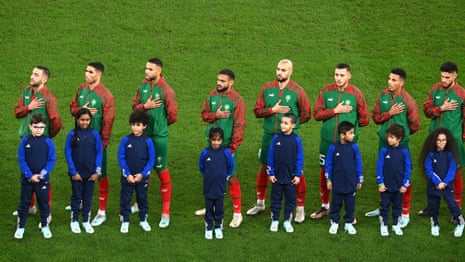 Maurice Murphy also gets in touch: "Is there an argument that this is the most Spanish team of all with their only natural non midfielders being want to be winger Alba and actually French Laporte. I'm considering Simon as a midfielder because he's definitely not a goalkeeper."
Yes, an eyebrow raised as Luis Enrique lavished such praise on Unai Simon.
Kári Tulinius gets in touch: "People who appreciate a good nickname are in for a feast. The Red Fury and the Atlas Lions are two of the best. Some of the very best have never featured at a World Cup, I'm fond of Thailand being called the War Elephants, but if I think about it, my favorite is probably Djibouti's evocative Shoremen of the Red Sea."
Looks like things are getting fraught outside the stadium. Via the Daily Mail reporter's Kathryn Batte. Inside the stadium, the Moroccan fans are making all the noise.
Should you be interested in such things and the governing body is often wrong, then these teams are both lined up in a 4-3-3 formation, according to Fifa.
Llorente at right back in place of the injured Cezar Azpilicueta suggests some flexibility, as the only switch from Spain's 7-0 win over Costa Rica in their opening group match in Qatar. Azpilicueta has not recovered from a thigh injury suffered in Spain's last game against Japan, and Luis Enrique opted for Llorente ahead of Dani Carvajal, who struggled a bit with the Japanese.
Much then rests on the Real Madrid/Barca combination of Marco Asencio and Ferran Torres. Our profiles are still freely available.
Ferran Torres:
Raised in Valencia's academy from the age of six, Torres went on to represent Spain at every youth level before his 2020 senior debut. He left Spain for Manchester City in a £20.8m move in August 2020, then Barcelona for an initial £46.7m in December 2021 – with an eye-catching €1bn buy-out clause. Last year he helped found a Kick Out Plastic campaign, became an ambassador for a charity helping stray dogs around the world, and launched a sustainable, vegan deodorant, Ferran X Homme. "I'm just focused on doing whatever I can with my influence to better the world," he says.
Marco Asencio:
Last season he lost his starting place in the Real Madrid lineup with Carlo Ancelotti preferring Federico Valverde and Rodrygo, and this summer he sounded out the market to leave the club. However, despite Asensio enjoying even fewer minutes at Madrid this season, Luis Enrique has put his faith in him and has included him in the World Cup squad. With Spain, he seems to be more aggressive and more physically committed, which is fundamental for Luis Enrique. However both coaches understand that the player's extraordinary talent is not enough in today's football.
What do those teams mean? Selim Amallah for Abdelhamid Sabiri is in midfield Morocco's only change but Luis Enrique has made five changes from the team that lost to Japan on Thursday, the most significant being Alvaro Morata being benched for Marco Asensio. Pau Torres steps down, as Aymeric Laporte comes into defence. Marcos Llorente, Jordi Alba and Ferran Torres all come in, as Cesar Azpilicueta, Alejandro Balde and Nico Williams drop out.
A potential for problems here. Let's hope it all goes ahead safely.
Today's Football Daily hones in on the samba showboaters.
Morocco: Bounou, Hakimi, Aguerd, Saiss, Mazraoui, Ounahi, Amrabat, Amallah, Ziyech, En-Nesyri, Boufal. Subs: Hamdallah, Zaroury, Sabiri, Mohamedi, Chair, Aboukhlal, Ezzalzouli, El Yamiq, Dari, Cheddira, Tagnaouti, El Khannous, Benoun,
Attiyat Allah, Jabrane.
Spain: Simon, Llorente, Rodri, Laporte, Jordi Alba, Gavi, Busquets, Gonzalez, Ferran Torres, Asensio, Olmo. Subs: Sanchez, Azpilicueta, Garcia, Pau Torres, Morata, Koke, Williams, Raya, Balde, Guillamon, Pino, Carlos Soler, Carvajal, Sarabia, Fati.
Referee: Fernando Rapallini (Argentina)
It's been quite the year for Spain and Chelsea's veteran defender.
When Azpilicueta played in Spain's 5-0 win against Slovakia at Euro 2020 in June 2021, it was his first game for the selección since 2018. Now, he is at his third World Cup, even if it almost ended early. Withdrawn with a knock that will not prevent him facing Morocco, he watched Japan come back to win 2-1. For a few minutes in the second half, Spain were out – "there were a lot of nerves," Azpilicueta says – but Kai Havertz led Germany's response against Costa Rica, rescuing seeing Spain and sending them through to play Morocco. Time to say thanks, then?
This will be a huge game in Ceuta, the part of Spain that is pretty much in Morocco.
Perhaps Morocco's leading player, Achraf Hakimi, was born in Madrid, and was almost denied the chance to play for Morocco.
I think Fifa was only checking rare names from immigrants more than where the boy was born, which is what happened with him," said Rabie Takassa, who works as a scout in Spain for the Moroccan Football Federation, in an interview in 2017. "They saw a Moroccan name and he was punished without deserving it. Real Madrid and his family gave all the papers required showing he was born in a hospital in Madrid, that he studied here, that he spent all his life growing up here. It was a complicated time for him because he didn't know when Fifa would give him the green light to play again.
Luis Enrique, the Spain coach, has been discussing penalties. His team exited Euro 2020 in 2021 at the semi-final stage via spot-kicks.
I imagine that they have done their homework. Over a year ago, in one of the Spain camps, I told them they had to get here with at least 1,000 penalties taken," Enrique said.

If you wait until getting here to practise penalties… [it won't be enough]. It's a moment of maximum tension, a time to show your nerve and that you can shoot the penalty in the way you have decided, if you have trained it a thousand times.

It says a lot about each player. It's trainable, manageable, how you manage the tension. It's increasingly less luck – the goalkeepers have more influence. We have a very good goalkeeper, any of the three can do very well in this situation. Every time we finish training, I see a lot of players taking penalties.
This match is a huge deal for Morocco's fans.
Per Reuters:
Morocco's matches have also been testing for organisers: there was pushing and shoving outside the stadium as ticketless fans gathered ahead of its Dec. 1 defeat of Canada, with some trying to climb the fence.

Desperate to attend the match against 2010 champions Spain, more than 1,000 Moroccan fans gathered at the official ticketing office on Monday night. Reuters journalists saw at least two scuffles and riot police deploy as the crowd swelled.

One fan said many had left empty-handed.

Some said they had come after seeing social media posts saying the Moroccan embassy and football association would distribute free tickets. Reuters could not reach the Moroccan football federation for comment.

The Moroccan embassy said on Twitter that it had handed out 500 tickets to Moroccans living in Qatar. The Moroccan football team's official Facebook page had said FIFA had made 5,000 extra tickets available for Morocco fans.

"Atlas Lions carry hopes of a whole continent," the Moroccan newspaper Maroc Le Jour declared in a front-page headline.

Royal Air Maroc said on Friday it was laying on four extra flights with 270-340 fans on each.

The Moroccan consulate has asked fans to "show sportsmanship regardless of the result" and to avoid doing anything that could trigger incidents with Spanish fans.
Walid Regragui, the Morocco coach, spoke at a news conference on Monday. Morocco are in their first last-16 match since Mexico 86.
It's going to be a very difficult game against one of the best teams in the world, they're among the top favourites. We have, however, our own qualities, and we've had an extra day of recuperation. If we can knock them out, it will be a big surprise.

I told the players, before the World Cup, we're playing only finals here. We've played three finals in the group phase and now it's our fourth final. I loved our second half against Canada, when we stuck to our plan and were extremely concentrated. Against Spain, we'll have to play the whole game like this.

We haven't been at that level for 36 years, so me and my staff will have to manage the players' emotions. It is the biggest game of our history but I hope the biggest will be the next one. Our elders cannot replay their game against West Germany while the Spain game is ahead of us.

I will tell the players to enjoy themselves, as millions in Morocco will be watching. We have to accept that Spain will have possession. We have our strengths, we abandoned possession to Belgium and Croatia and it worked well. Our plan is that they don't know what to do with the ball.
This may be an intercontinental match, but it is still something of a local affair. As anyone who has been to southern Spain knows, Morocco is just across the water, not much of a ferry ride across the Med from Algeciras or the like, just past the Rock of Gibraltar. And yet the teams have rarely met, just three previous times. They met in a qualifying double-header for the 1962 World Cup and then four years ago in Russia in the group stage.
Morocco are carrying Africa's pride at this tournament, as the last left from their continent, and also the Arab world. Should Spain prevail, then the last eight will have rather familiar, predictable look to it. It falls to Morocco, one of the best supported teams in Qatar, to add an element of the unfamiliar to the quarter-finals. Are they capable of it? Yes, they could be well be. They are one of the very few unbeaten teams left, and dealt very well with Croatia, beat the Belgians comfortably and then did a decent number on Canada, too. With two high-class full-backs, Achraf Hakimi, born in Madrid, and Noussair Mazraoui as well as Hakim Ziyech, showing why Chelsea have not got the best of them, they have talent, and determination.
Spain, after winning 7-0, have done what Spain used to do before 2008-2010-2012 and look flaky after being brilliant. Their loss to Japan saw them pay for the lack of a cutting edge, and their reward was facing the Moroccans, against whom they have been drawn in one of the most interesting ties of the second round.
Kick-off is 3pm UK time/ 6pm Qatar-Mecca time. Join me.
Denial of responsibility!
Yours Bulletin is an automatic aggregator of the all world's media. In each content, the hyperlink to the primary source is specified. All trademarks belong to their rightful owners, all materials to their authors. If you are the owner of the content and do not want us to publish your materials, please contact us by email –
[email protected]
. The content will be deleted within 24 hours.